WRONG
How Could you?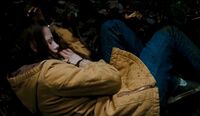 "In truth, categorizing talents is a subjective, haphazard business; every talent is unique, never exactly the same thing twice. But you, Bella, are fairly easy to classify. Talents that are purely defensive, that protect some aspect of the bearer, are always called shields." ―Eleazar explaining Bella's power...more
Ad blocker interference detected!
Wikia is a free-to-use site that makes money from advertising. We have a modified experience for viewers using ad blockers

Wikia is not accessible if you've made further modifications. Remove the custom ad blocker rule(s) and the page will load as expected.